Zhu Tian Cai's Training School
An Introduction to the School.
I'm not clear at the moment, whether there is an active Zhu Tian Cai school running in Chen Jia Gou. According to their leaflets in Chinese there is.
When I spoke with his nephew, it was clear that they were very happy to teach international students and this probably means you would get personal tuition, which is what you want in the end.
My understanding is that Zhu Tian Cai's two younger sons reside in Chen Jia Gou along with his nephew and they all know all of the family Tai Chi.
His other two sons live in Singapore and it sounds like Zhu Tian Cai himself, moves between the homes. He was just about to arrive in Chen Jia Gou in Dec 2009 when I left.
I didn't discuss tuition fees as such with them, so I will write more on this teaching environment later.
About Zhu Tian Cai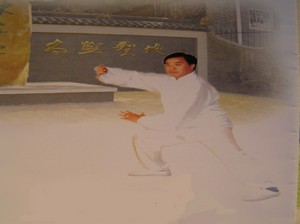 Zhu Tian Cai is the nephew of Chen Zhao Kui and Chen Zhao Pei and trained with both of them alongside Chen Xiao Wang, Wang Xi An and Chen Zhen Lei.
He is one of the top Chen Family 19th Generation Grand Masters and teaches internationally.
He is famous for his Xiao Jia practice as well as Lao Jia.
Location
Please see About Chen Jia Gou.
GettingThere
Please see Getting to Chen Jia Gou.