Yang Zhi Fang's School, Handan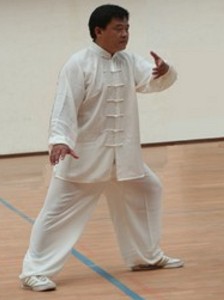 Yang Zhi Fang is the son of Yang Zhen Guo and grandson of Yang Chen Fu.
He lives in Handan and is the head of the Yang Family Tai Chi Association there with links to many good Yang Style teachers.
Yang Zhi Fang's Association is based at Handan University Gymnasium and they have plans to use the venue as a base for teaching international students.
Handan is not a very pleasant city to stay in long term, the air quality is sadly not good, but the University is a good site for the taichi association and training at the main gymnasium would be fine for a short period.
Yang Zhi Fang teaches Traditional Yang Style Long Form 85 and 37. (Nb. 85 is the same as 108, but with an alternate numbering system for the movements).
He has expressed an interest in teaching Western students and help spread Traditional Yang Style Long Form. He is also said he is open to invitations to teach outside of China.
Teaching is on a tutorial basis so you pay by the hour. I don't have a price from them at the moment, so please enquire with them directly.
I believe this would be a good opportunity for some individuals who already have a high level personal practice and for taichi tutorial groups. Nb. I wouldn't encourage beginners to approach him.
Accommodation is available in local hotels, which cost 130Y - 250Y per night.
Location - Please see About Handan.